Distinctive Products that Create a Unique and Fun Shopping Atmosphere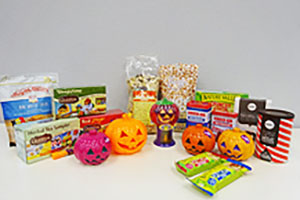 Amenity Foods Department develops business opportunities that are distinct from those of Company foodstuff operations. The operational concept of the Department is based on three Ps, namely, Pleasing, Producing, and Presenting. We import overseas brand name items that reflect sensibilities not readily available in Japan in product categories such as pastas, herbal teas, and cereals. We also develop and sell character-based confectionery products featuring characters from Thomas the Tank Engine and Sesame Street, as well as items such as Valentines Day, Halloween, and Christmas seasonal goods.

We handle roughly equal numbers of imported items and items that we have ourselves developed. In developing our own products, we first obtain proper product licenses for selected characters, after which we carry out the entire product development process from the product design phase to the creation of product packaging.

Our proprietary merchandising proposals make possible the bringing together of a wide range of products including unique items that can usually be found only overseas, fun character goods known to all, and exciting seasonal products. Our customers include stores that sell food products, and also many other sales venues such as general and variety stores, theme parks, and stalls set up at special events. Our products are indeed sold in a wide variety of locations to many differing target markets, and because our products appeal to many different customer preferences, we are capable of unique product offerings to complement any sales venue.